We began our meeting with a traditional prayer from member Tom Babic and a lively rendition of
Our Country 'Tis of Thee
, accompanied by our guest pianist and speaker Arthur Zorn.
The Dollars are Racing In….
Caroline
was the first to offer $2 happy dollar: $1 for member Alona Tate joining us after the conclusion of the Vermont legislative session and another $1 for Caroline's daughter
Lydia completing her undergraduate degree in three years (instead of four) and also nabbing summa cum laude distinction for her degree.
Nicole
followed swiftly with her own $2 pledge: Another $1 to celebrate member Alona's reappearance and a $1 for Nicole's ability to use points to nab a free flight next fall for her & her daughter to visit a long lost relative for Thanksgiving.
Not to be outdone, Tony
propelled to the lead with a happy $5 for his family's well-being with his son Alex writing for Amazon Prime, his daughter busy delivering Telehealth medicine & his spouse Cindy back scheduling shows at the Barre Opera House.
And bringing up the rear….Joe Shadroui
with $2: $1 for a welcome back to Arthur Zorn from his trip to Great Britain and $1 because Joe knew the
Molly
Malone
song that Arthur shared with us.
Meanwhile, in the stands….
Karl
proposed a fine of 1 on 9 on everybody who was not wearing shorts, which was seconded by Joe Shadroui, a well-known lover of shorts attire.
Noble defenses were mounted from George (if you lived in Murray Hill in Montpelier, you would know that it was a cold morning), from Alona (her office is cold and she walked to work in the early cold AM air, and besides an ex post facto fine is unconstitutional), and from guest Arthur Zorn (who insisted on providing $20 in lieu of the members paying their own fines).
After a round of anemic "ayes," and a chorus of robust "nays," President Tony exercised his presidential prerogative and upheld the fine.
And it's Secretary in the lead….
Bruce shared the following singular announcements: Ted Goulette has a birthday on this very date but had the audacity to be absent for the meeting. A fine looms.
On this day in history: In 1980, Mount St. Helen erupted; in 1860, Abe Lincoln clinched the Republican nomination for President.
Of particular note: George Milne has been a member of Barre Rotary since 05/19/59 – 63 years!
Now, that's a winning streak….
And now for the featured event…
Arthur Zorn
, club guest pianist, started with a recap of his recent trip to Great Britain. Castles, bogs, history & Guinness. Perfection.
Arthur
started us with a little exercise to show one's ability to shift from the comfortable (hands clasped with thumb in comfortable position) to the uncomfortable or unfamiliar (thumbs switched to reverse position).
Arthur
then took us through the history of music in civilization.
This journey starts in the caves of early man where drawings of sticks and animal hides fashioned as drums decorate walls, to 35,000 years ago where
flutes were used in Syria, to bagpipe-like instruments in Greek and Roman times, to 1,000 A.D. where the Dark Ages were anything but with music and religion interwoven, to the Renaissance where chants prevailed and musical notation began, to the Baroque period of the 1600s with Johanne Bach and the fugue, to the classical period of Beethoven and Mozart, to the operatic compositions of Wagner and Puccini, to breaking new ground with jazz and blues in the United States, transforming finally into rock and roll and then pop, rap, and the electronic music of the 21th century.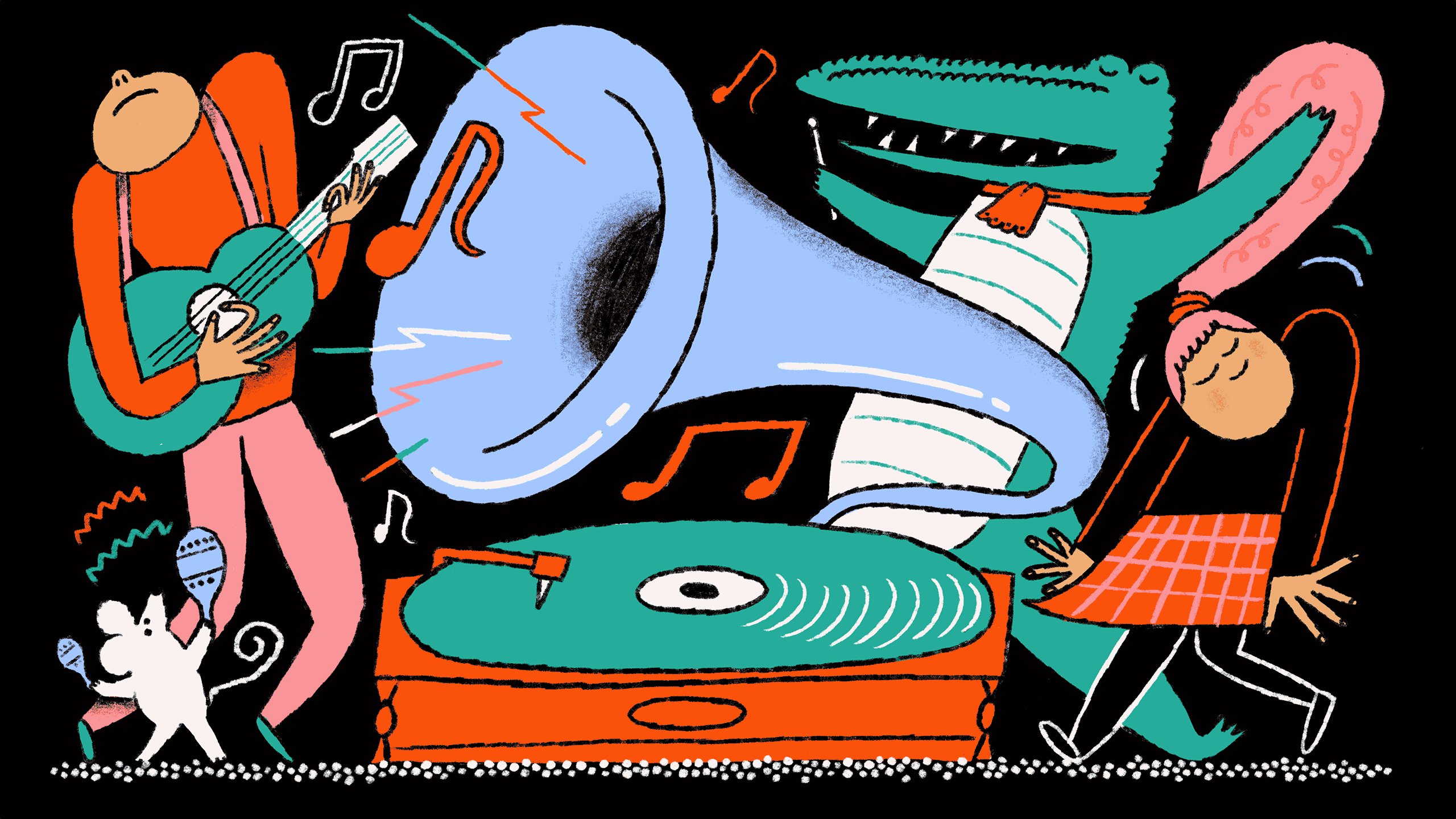 Arthur's personal journey has led him to explore many styles of teaching, personal growth, and musical creation, including his sweetest time with special needs kids at SHS staging the Wizard of Oz.
We thank Arthur for taking us along on this magical musical tour.
Caroline won the raffle and donated her $5 back to the club to defray costs of space rental. Sadly, the white ball remained elusive….